Cybercom to remain in myhive Crown Tower
Cybercom, an international technology company, has recently renewed its lease agreement in the myhive Crown Tower building, whose owner is IMMOFINANZ.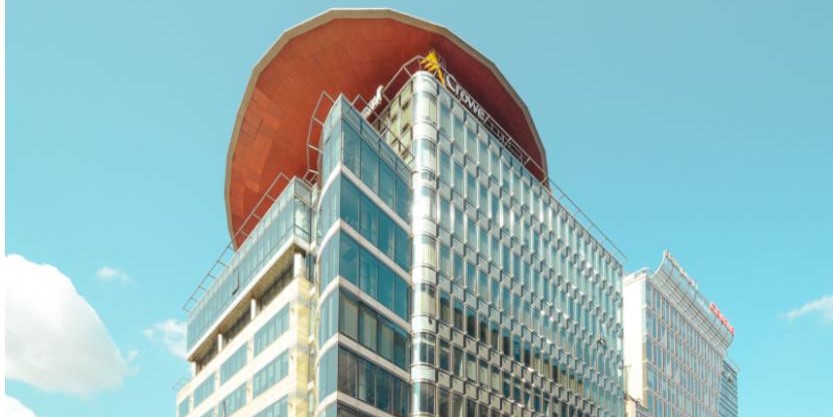 Cybercom is an international technology company based in Sweden with a workforce of over 1,200 people. In Poland, the company employs about 300 people who are located in Łódź, Warsaw, and Bydgoszcz. Cybercom provides tailor-made, innovative IT solutions for customers worldwide. At the myhive Crown Tower, the company occupies an area of almost 1,000 sqm.
"After a relatively long process of selecting suitable office space for the next few years, we finally decided to stay in our current office building. The uncertainty surrounding the COVID-19 pandemic persuaded us to choose the option that provided us with greater security and predictability in terms of space. We appreciate the current office for its convenient location. The building is well-served by public transport which is of crucial importance to our employees. It is also a good place to work due to the rapidly developing business environment surrounding the Daszyńskiego Roundabout and the wide range of amenities available nearby", says Katarzyna Bator, Head of Finance Department, Cybercom.
Located in Warsaw's Wola district, the 12-floor myhive Crown Tower building offers approx. 8,500 sqm of leasable office space. The state-of-the-art design of the office space allows for bespoke layouts and the creation of friendly working environments. The building's large glass facade provides a great deal of natural light. The myhive Crown Tower also has a café and a spacious reception area, which can be used by tenants and their guests.
"Wola is one of the most desirable office addresses in the CEE region, which is confirmed by the profile of companies that decide to lease space here. It is a popular choice amongst international IT players, as well as companies from the financial, banking, and insurance sectors, which are among the most demanding tenants. Moreover, the attractiveness of this business part of the capital city is also reflected in the growing scale of existing contract renegotiations. We are glad that Cybercom has decided to stay in the myhive Crown Tower and we believe that the changing environment of Daszyńskiego Roundabout will contribute to even more comfortable working conditions for the company's employees", comments Jarosław Kwiecień, Senior Consultant, JLL.

---
JLL (NYSE: JLL) is a leading professional services firm that specializes in real estate and investment management. JLL shapes the future of real estate for a better world by using the most advanced technology to create rewarding opportunities, amazing spaces and sustainable real estate solutions for our clients, our people and our communities. JLL is a Fortune 500 company with annual revenue of $18.0 billion, operations in over 80 countries and a global workforce of more than 94,000 as of March 31, 2020. JLL is the brand name, and a registered trademark, of Jones Lang LaSalle Incorporated. For further information, visit jll.com.